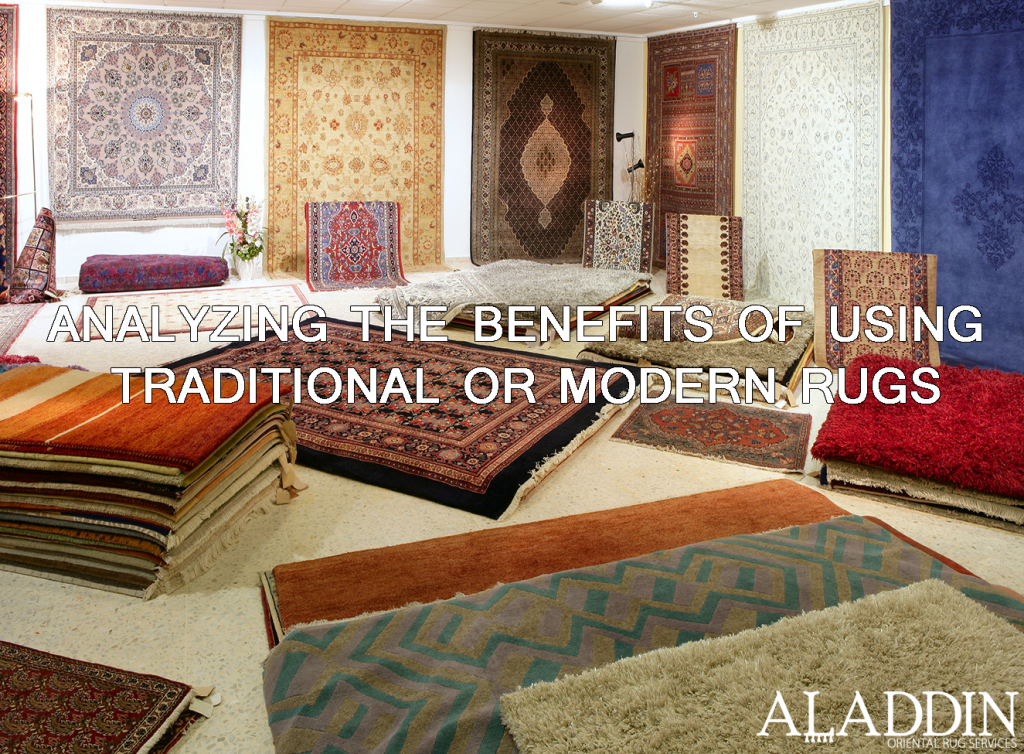 Rugs can be the centerpiece of a room's energy – they serve as the foundation for the area's color palate, which the rest of the room's decor and furniture compliments – or clashes with. When choosing the ideal decorative environment for your home, it's important to consider utilizing both traditional Persian rugs, as well as more contemporary, modern designs.
Traditional patterns rugs, Contemporary Use
For a long time when people talked about Oriental rugs or handmade carpets, they'd be referencing a very established style of Persian rug with fringes, a border, and classical design symbolism. Nowadays, with the advent of the modern area rug, you have an entire new category of decor. These rugs are made on upright looms, similarly to how carpets and rugs have been traditionally crafted for thousands of years, however, their designs are contemporary and Western.
You might assume that modern area rugs must be placed in modern settings; however the true stylistic reality is that blending contemporary rugs with traditional decor and vice versa creates a fantastic contrast that's elegant, restrained, and very chic. The most avant garde of today's designers are synthesizing contrasting rug types in ways that remain on the vanguard of home decor.  Sometimes using a modern rug in a traditional environment can be very stylish. The rug has to be somewhat subdued – muted with solid colors, or a subtle transitional pattern that carries elements of traditional themes. It certainly helps if the rug's colors work well with the existing colors inside a room, creating a smooth blend.
A large amount of today's designer contemporary rugs are made in Nepal, an area in the Himalayas, known for the high quality of it's sheep's wool – a result of high altitude. The rug weaving technique situated in Nepal originated from Tibet, however many of Tibet's premiere rug makers fled to Nepal as refugees when China took over. Many Napali rug weavers use the loop Sennah knot, created in Tibet, in their rugs.
Unique, Priceless Imagery and Artistry Rugs
By utilizing the timeless beauty of a traditional Persian rug, you are basing the energy of the room in history, nature, and emotion. Through evoking timeless emotions in it's pattern, a traditional rug can highlight rooms based on classic design schemes, as well as contrastingly complimenting contemporary housewares.  Traditionally weaved rugs reflect nature in the imagery of their design, which often include flowers, plants, vines, or even animals such as peacocks – the historical visual motifs of their location of origin. Wool from sheep is colored with dye sourced from nature, plants, flowers, roots, or even insects. Indigo abounds. Natural colors like cream, blues and reds coalesce together to create a warm organic palette that can complement the cold industrial tones of contemporary fixtures or furniture. If the colors work well together, and the furnishings are simple (meaning solid colors, muted design) the juxtaposition of a traditional rug among contemporary furnishings can be absolutely beautiful.
Broad Benefits of a Persian Rug
Persian and Oriental rugs are simply made with a higher attention to detail than most modern rugs. Not only do they provide long-lasting, durable benefits to the home, but they can often be investments that gain value as time passes – not to mention providing a great sentimental value. They can bolster the aesthetic tone of an entire room, and remain an individual, intricately designed art object in their own right. When held against modern rugs, Persian rugs are demonstrably better for Earth's natural environment. They're made out of naturally sourced dye and fabric, and are both less flammable than contemporary synthetic fabric rugs, but they release much less allergens than modern rugs. This is one reason they have a long lasting benefit, and reputation for excellence.