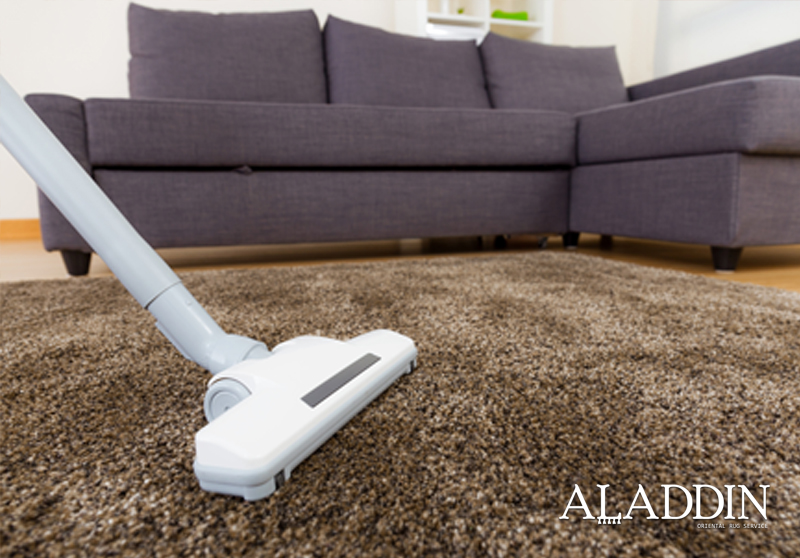 Here's a bit of custom-tailored rug cleaning advice from our expert carpet cleaners. While we advise our customers to contact us directly regarding solutions for complicated or widespread staining, we also firmly believe in the value of providing everyone with expert information to attempt stain removal on their own. Here's our advice – direct from the mouths of our experts.
How can you tell if you have a quality Oriental-style rug?
If the same design on the back is on the front, then you have a woven rug. These are of a much higher quality than tufted rugs. Wool is the ideal material for rugs – it's almost indestructible, and it's environmentally sustainable. Hand woven rugs contain the most value – not only do they take the longest amount of time to make, they require the largest amount of personal artistry to create. However, Karastan in particular makes pretty fantastic machine woven rugs. If you see burlap or canvas on the back of the rug, it's tufted; Tufted rugs, often made in China and India using glue or often latex may look like pile rugs, but only last about 5 to 10 years before getting all shredded up. Woven rugs can last hundreds of years with zero degradation.
What is artificial silk?
Artificial silk – often called art silk or manmade silk – doesn't mean real silk (made froms silkworms.) It's in reality made from machine made viscose rayon – and often turns yellow over time as it's colors fade, not to mention it's extensive shedding. If you're purchasing a room size "silk"  rug for under 1,000 dollars it very likely may not be made of real silk.
Is it possible to vacuum too much?
Today's powerful vacuums might be too harsh on delicate woven rugs, particularly if they are laid above a hard floor. We recommend sweeping wool rugs with carpet sweepers. If you're going to be vacuuming, make sure to use a canister vacuum with the beater bar set high to avoid any abrasion. Make sure to vacuum the rug from side to side, rather than from end to end, so you don't accidentally grab up any of the fringes. On an annual basis, take the rug outside and vacuum it's back, in order to remove any hard to reach embedded dirt that can cause fiber wear. After that, vacuum the top of the rug again. If you hit a corner of the rug, and see a cloud of dust come out, it needs washing.
How often do rugs need to be washed, and why?
Rugs need to be washed every two to three years. Even if rugs don't appear dirty, their color slowly gets more dull over time, as well as the fringe degrading. If you wait a while before cleaning it, all forms of particles like silica or dust can sink down towards the base of the rug – and when the rug gets walked on top of, the fiber at the base get degraded. This is true whether or not the base is made of wool or cotton, and whether or not there's a quality rubber rug pad placed underneath it. That's the reason that the intricate designs on rugs become bare over time – it's not foot traffic, as some might think. Well, it is foot traffic in some sense, being foot traffic combined with a lack of getting swept, washed, or beaten.
What are the most common mistakes regarding rugs or carpets?
Placing plants on top of rugs must be the top committed rug travesty. When you leave a potted plant on top of a rug for an extended amount of time, you may pick the rug up and a circle drops out from under it. Since the sub-carpet pad doesn't allow for the circulation of air, it will slowly accumulate moisture. And moisture means mildew. Even when a wool rug feels dry on the surface, it may have moisture under it, that seeps to the bottom of the rug, breeding mildew – which then leads to dry rot, and your need to repair it.