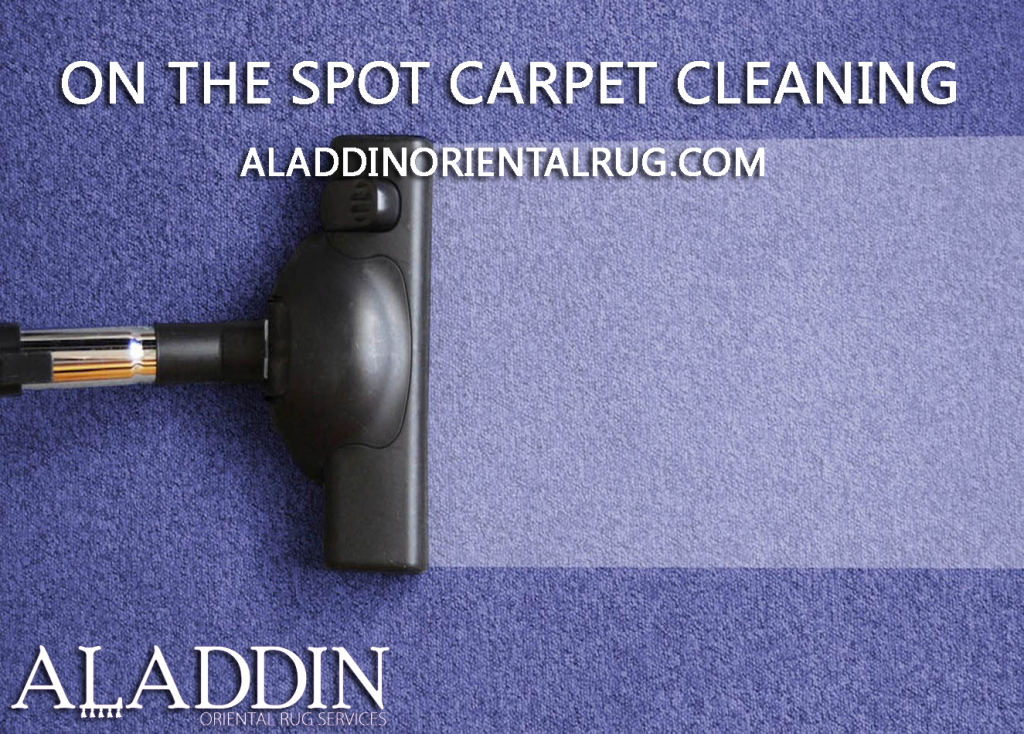 When spills happen, it's always best to react quickly and treat the carpet as soon as humanly possible. Immediate treatment of the stain is the foundational approach to preventing stains – its rate of efficacy is incredibly high; the sooner after the spill the better. There's a number of tactics you can employ that – while being technically simple – are incredibly effective at removing stains. Different simple cleaners made from household products are most effective on different kinds of stains, depending on their origin. Below Aladdin Oriental Rug will tackle the step for on the spot Carpet Cleaning.
First step, Blotting On the spot Carpet Cleaning
With a clean cloth saturated in cleaning solution, blot the stain, and dry 30with an outside-in-motion. Rinse the area completely and thoroughly with clean water, and blot/rinse a few more times. It's important that you never scrub your rug or carpet – this can damage their fibers as well as letting the spill soak all the way down to the carpet's interior pad.
Water Soluble Stain Remover
Water Soluble Stains include milk, alcoholic drinks. ice cream, soda, washable ink, wet or latex paint, mud, food dye or berries – as well as human or pet waste.
Use a cleaning solution made of 32 ounces of clean water mixed with ¼ teaspoon of non-bleach detergent (or white vinegar.)
Tough Water Soluble Stains
These stains include chocolate, coffee, tea, wine, blood, and vomit.
If your carpet isn't wool, Use a cleaning mix made of 1 tablespoon of ammonia mixed with a cup of water. If your carpet is synthetic, you can also try one part chlorine bleach mixed with 5 parts water.
If your carpet is wool, simply try a stronger solution of the above water soluble stain remover recipe. Remember, bleaches are pretty strong, so it's always best to stick to a balanced concentration and only use them on carpets dyed with solution.
Wax and Gum Stains
Use ice to freeze the gum or wax and shatter it with a blunt object like a hammer or spoon. Vacuum immediately before the pieces soften, and blot the carpet with a white towel.
Glue Stains
Wet a cloth with rubbing alcohol and press it on the stained area – once the glue is moistened, it will come loose – simply wipe it off and repeat blotting and cleaning until clean.
Cigarette Burns
Gently rub the pile with the side of a continuously hard and flat surface – like a thin ruler or a blunt knife.
Oil, Fat, and Wax Stains
Put a paper towel over the carpet and iron it on the warm setting – the stain will move up from off the carpet onto the paper towel.